http://www.electronique.it —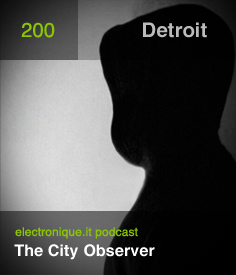 Right after listening to his mix I fully understood the artist's choice to appear anonymously.

The city of Detroit is experiencing perhaps one of the darkest moments in its history.
There is no need for heroes, main characters, the urgent need is the salvation of body and soul.

Our man in Detroit has felt on his skin the rise and decline of the city, and knows every single aspect in depth. The choice is clear, putting in the foreground music, salvation, introducing the city through its musical history. A rich history, no doubt about it.

The City Observer Statement

Here we go folks...

Thanks to electronique for asking me to do this mix.
I thus decided to remain uncloaked cause i'm here to fully represent the Music of Detroit in the best way i can, not myself.

Being born in Detroit, I consider myself lucky since I've been exposed to all the best music coming from the city since i was a child, you know, Motown, and jazz, rock and funk, got loads of records from my family and friends, so they were the starting point of the mix.
Did a small tribute to the founding fathers of house and techno and electro too, without them the D would not be on the map... till the sound of now.

Going back with memory is also very personal and emotive task, since Detroit is facing a very hard time now. City is near bankruptcy, all the remaining people, mostly black, is becoming poorer and poorer.
The decline is not a new thing as you may know, the town suffers from unemployment, abandonement and poverty, since decades.

Crack and guns are corrupting our new generations..

But in this desolation, I feel the strenght of my people who still live here. Their souls are alive. The wonderful thing about my city is that people keeps believing and making music out of desperation, to paint a better future for them and their children to keep them out of the streets.
This positive attitude is a beautiful thing that no crisis will ever delete.
My mix is dedicated to this people, who keep things going even in the harder times.

peace-

R.I.P. James, Aaron-Carl, Ron, Ken

Ladies and gentlemen, The City Observer plays Detroit City!