http://www.velvetycouch.com — It's been a really busy month, but I'm happy to release the new Home with House episode. As with most my mixes, this one is reflecting my current state of mind and general mood. This mix is deep and progressive with a smooth after taste. It reminds me a lot of the smooth and relaxed energy I get from green tea and so I've entitled this mix "Velvet Tea".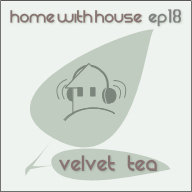 Velvet Tea tracklisting:
1. Office Gossip - Strangers (Original Mix)
2. Astrid Suryanto - Distant Bar (Dub Mix)
3. Furry Phreaks - All Over The World feat. Terra Deva (Charles Webster vs Pastaboys Mix)
4. Office Gossip - Say It (Original Mix)
5. Doman & Gooding - Pacific State (Afterlife Remix)
6. Julius Papp - Le Deep (Papp's 2008 Remix)
7. Rasmus Faber ft. Linda Sundblad - Always (Studio Apartment Tech Mix)
8. Code 718 - Equinox (Henrik Schwarz Remix)
9. Oriental Funk Stew - Sky High (Chuck Love Dub)
10. Da Funk - Sativa (Ross Couch Remix)
11. DJ Tatana - Soulmate (Dinka Remix)
12. Pan Pot - Faces feat. Vincenzo (Original Mix)

Download and comment on this episode here:
Home with House ep18 - Velvet Tea

Find past episodes and other stuff like podcast CD Covers at:
http://www.homewithhouse.com

Subscribe to this podcast here:
Subscribe to Home with House podcast

Peace!