http://www.velvetycouch.com — October's Home with House episode is finally here. This month's mix is a loungy ride suitable for listening to while hanging around the house or perhaps when having a dinner party. It contains equal parts soulful, funky, jazzy, and deep house all while maintaining that lounging vibe. There are moments of relaxed groove, some upbeat and funky sections and a few deeper tracks to keep things interesting.

This mix is a bit unusual for the Home with House podcast series because it has broken away from the 1 or 2 hour mix target. I originally intended to make this a single hour mix but I ran over that time because I was in the flow of the mix. It also happened to fall short of the 2 hour mark because I didn't feel like shoe-horning songs in to stretch it out. So this mix is truly a result of just following the flow. I hope you enjoy episode 23, this one is called "The House that Lounge Built".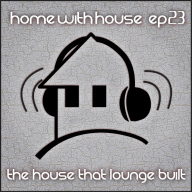 "The House that Lounge Built" tracklisting:

1. Roy Davis Jr. - Good Life (Original Mix)
2. Nathan Stewart - Treading Water (Original Mix)
3. Glenn Underground & Daisy Villa - Rize (Main Mix)
4. d-t3ch - Understand The Culture (Original Mix)
5. Anthony Molina feat. Elise Taylor - Perfect Love (James Bledsoe Mix)
6. Greg Zoi - Loungin' (Short Bus Kids Remix)
7. DJN Project - Take You Away (Louie Vega Instrumental)
8. Aaron-Carl - If There Is A Heaven (Soul Deep Vocal Mix)
9. Blaze - Breathe (Liquid People presents Danism Remix)
10. Oscar G & Stryke - Hypnotized (Charles Webster's Chunkster Mix)
11. Ross Couch - Within You Soul (Original Mix)
12. U Lift Me - UPZ (Dubstrumental)
13. Rainy Payne & Sonyae Elise - Houseaholic (Original Mix)
14. Dubgroove - Hit U Off (Original Mix)
15. Pryda - Shadows (Claes Rosen Remix)
16. Heather Johnson - Washes Over Me (Rasmus Faber Epic Vocal Mix)
17. Orion & Mango & J Shore - Raining In Osaka (Original Mix)
18. Martin East Project feat. Jared Douglas - Release (Martin's Deepah Dub)

Download and comment on this episode here:
Home with House ep23 - The House that Lounge Built

Find past episodes and CD Covers at:
http://www.homewithhouse.com

Subscribe to this podcast here:
Subscribe to Home with House podcast

Peace!